A number of legal experts and political commentators have highlighted the potential problems for Donald Trump following reports that his former White House chief of staff Mark Meadows has complied with a subpoena under the Department of Justice (DoJ)'s investigation into January 6.
Meadows handed prosecutors the same documents that were requested via a subpoena also issued to him by the House Select Committee investigating the events leading up to the insurrection, according to CNN.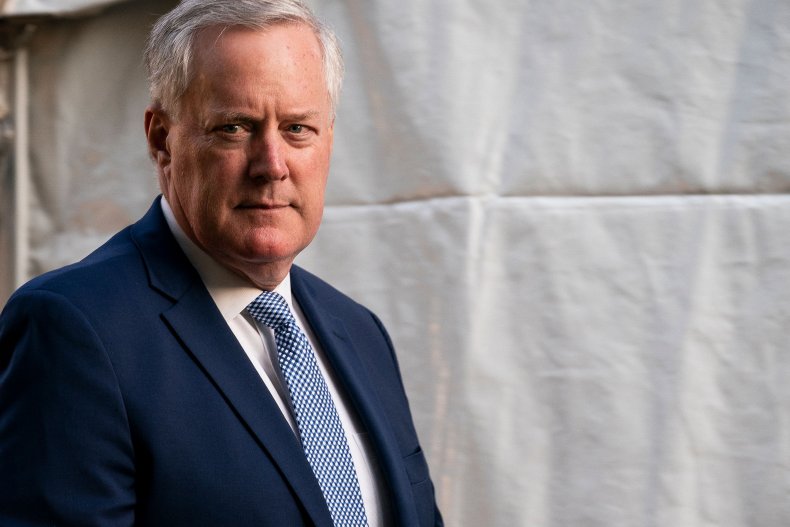 Last year, Meadows submitted thousands of text messages to the January 6 panel—including ones that showed Fox News hosts and Donald Trump Jr. expressing concerns about the violence taking place at the Capitol—before he stopped cooperating.
The handing-over of materials to the January 6 committee is part of the obligations required to comply with the DoJ subpoena, according to CNN.
Meadows is now the highest-ranking Trump official known to have responded to a subpoena as part of the federal investigation into January 6, with experts highlighting possible legal issues this could mean for the former president.
Others have also suggested the reports proves previous speculation that Meadows was not charged by the DoJ for failing to comply with his congressional subpoena.
Former Deputy Chief of Staff Dan Scavino also escaped prosecution for not complying with his congressional subpoena, but former White House adviser Steve Bannon and ex-Trump's trade adviser Peter Navarro were charged.
Tristen Snell, lawyer and former assistant attorney general for New York state, said Meadows complying with the DoJ subpoena shows he is "playing ball" with federal investigators.
"This is why DOJ did not prosecute Meadows for contempt of Congress: he was already working with them," Snell tweeted.
"This is NOT good for Trump. Meadows was Trump's right hand man on everything related to January 6."
The Twitter account for the left-wing blog the Palmer Report also said reports Meadows is cooperating with the DOJ in its January 6 probe "might be the worst news for Trump yet."
"Meadows knows more about Trump's crimes than anybody," the Palmer Report tweeted.
"Meadows has a history of partially cooperating against Trump, so he can keep himself out of prison while telling himself he's still remaining loyal to Trump. So there's reason to suspect he could be doing the same here.
"But regardless of whether Meadows has fully complied with the DOJ subpoena, the fact that he's given the DOJ as much as he gave the House is still very bad news for Trump. It renders moot the question of whether the House is sharing everything with the DOJ."
Elie Honig, CNN's senior legal analyst, said Meadows complying with the DoJ subpoena would be "a start" towards cooperation.
"Odd that they've only subpoenaed materials he already gave to the Jan. 6 Committee (as opposed to everything)," Honig tweeted. "DOJ needs to finish the job, or he's useless. There's no such thing as halfway cooperation with DOJ."
However, Bradley Moss, a national security lawyer, urged people to "temper your enthusiasm" surrounding Meadows.
"I didn't read too much into the reporting behind Meadows simply complying with what was ordered by the subpoena. No indication he flipped or is cooperating beyond the subpoena.," Moss tweeted.
Newsweek has contacted Meadows for comment.