A reliable carry-on travel backpack is essential for a successful trip. If you pack light, it can actually serve as your only piece of carry-on luggage when traveling.
It won't slow you down as you run to board the airport's inter-terminal train, and it will look terrific on you when you explore the city's streets. Choose a sturdy backpack for travel that will last you for many years.
Picking the best travel backpack for you, like choosing the perfect vacation, necessitates careful consideration. We found the top travel backpacks to help you make the right decision.
Seasoned travelers even suggested several of the following choices, so don't just take our word for it. You'll find the best travel backpack selections regardless of your priorities.
How We Picked
Capacity and Size

Your trip's length and type will determine this. Trips involving a lot of supplies, like multi-day treks or camping excursions, will need a larger capacity. For shorter travels, attempt to choose a bag that complies with airline carry-on requirements to save time and money.

Comfort and Weight

The travel backpack should feature mesh. Without mesh, it could become excessively hot and make you sweat more when traveling on warm days. A comfortable travel backpack needs padding, as more foam equals improved shock and impact resistance. Also, look for travel backpacks weighing 3.0 – 5.1 pounds.

Material and Durability

If the pack is made of durable materials and has a high level of weather resistance, that can make all the difference in how long it lasts. Some backpacks for outdoor activities include removable rain covers that can be used as needed.

Cost-Effective

You can get a spacious backpack for under $100, but if you're going to be in harsh outdoor conditions, you might want to spend a little extra for a rugged option. If the quality of the material is crucial to you, keep in mind that some great backpacks can cost more.
Our Top Picks
Best Pick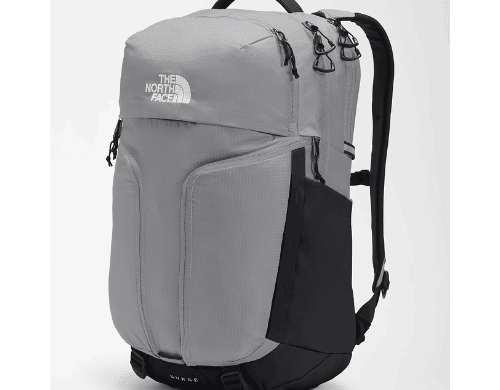 Provides a ton of organization with its three sizable, readily accessible zippered front pockets.
Despite being created with minimalism, this 31-liter backpack is the epitome of quality.

Buy Now
Thanks to The North Face Surge, outdoor enthusiasts do not need to carry two packs when trekking and traveling. It has two main compartments; a fleece-lined compartment specifically designed to hold a 15-inch laptop and numerous smaller internal and external compartments.
The pack uses The North Face's FlexVent suspension system, supported by numerous ventilation grooves on the back panel. Padded shoulder straps with sternum straps and a hip belt are also included in the pack to increase comfort when carrying heavy loads.
Runner Up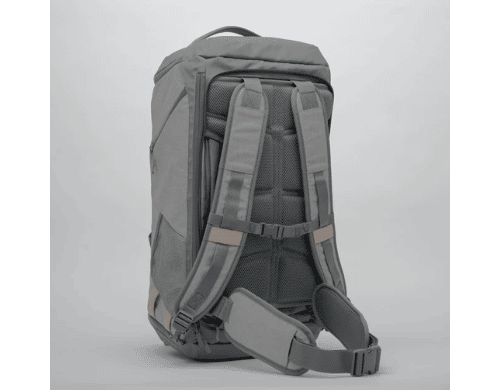 World's first 100% recycled bottle backpack.
Travel with ease thanks to 40 liters of packable space in a TSA-approved carry-on size.
Buy Now
The fact that environmental and sustainable travel initiatives are currently gaining significant traction is not surprising. The manufacturers of the Monarc 2-in-1 Duffle-Backpack have received a highly valued plastic negative rating.
Its 2-1 concept design allows it to be carried as a duffel bag or worn as a backpack while employing a comfortable handle. At that price, it's certainly worth the money. With a shoe compartment and a 17-inch laptop sleeve, the pack's 40 liters of storage may go a long way.
Most Cost-Effective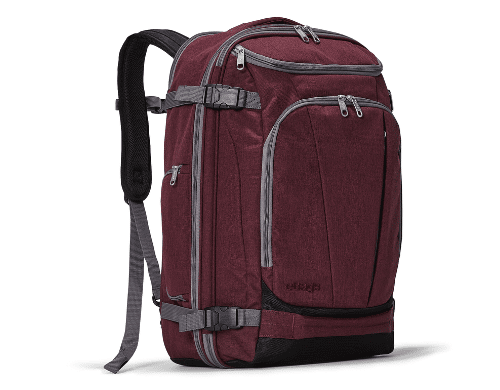 Fulfills all the functions that your wheeled carry-on should have.
Get this if you want an affordable, spacious backpack with a classic style.

Buy Now
The eBags TLS Mother Lode Weekender is a fantastic choice for those on a tight budget. It includes a ton of well-arranged pockets inside and out, allowing you to organize your life while you're on the go.
An easy-access primary compartment, many external pockets for organizing, and a laptop sleeve that elevates your laptop's weight off your shoulders are all included. This backpack also boasts the most volume of any we examined, growing to 65 liters, far beyond the 45-liter limit set by any airline.
Who This Is For
A great carry-on backpack might become your new favorite traveling buddy, whether you are going on vacation, on a work trip, or even for your honeymoon.
Backpack vs suitcase
The choice between a backpack and a suitcase depends on the kind of travel you do. A suitcase is usually the most practical choice if you travel to your destination and stay in the same hotel or resort for the whole trip.
A backpack is more appropriate for you if you intend to move a lot while traveling. Backpacks are usually a better option for extended journeys.
Panel loading vs. clamshell
Every new backpacker begins their journey by getting a pack. For seasoned backpackers, choosing and sizing a pack can be difficult; for a novice, it can be daunting. Choosing between a top-loading and a front-loading backpack should be one of your initial decisions.
Pick a top-loader if you backpack off-road. Adventurers moving between hostels are the target market for front-loading packs. Either pack design is suitable for usage on foot or in a vehicle. Just be sure your pack is incredibly comfy because you'll probably be carrying it for a long time.
Finding the ideal fit is critical, as is making sure that the shoulder and waist straps don't bite into your body.
Is it worth splurging on?
Much like cell phones are to the rest of us humans, a backpack is an extension of the traveler. You need a travel backpack to carry your necessities as you explore cities or the great outdoors, just as you depend on that convenient device for nearly everything.
It would be best if you also had a travel backpack that matches your lifestyle and is comfortable, durable, and sustainable, much like when choosing the best smartphone.
Whether on a weekend trip outside of Manila or hitchhiking across Southeast Asia, keep the following things in mind: good internal organization, quick-access openings, and well-padded straps.
Choosing low-key and smoother exterior designs also keeps your pack from being entangled in things it shouldn't be, especially when you're constantly on the go.
Why You Should Trust Us
We pay attention to people with first-hand knowledge of the products.
We go through Amazon reviews, enthusiast blogs, and more to provide you with the best, most complete information we can. We sort it out, retaining the gold and throwing the rest away.
How We Picked
A savvy traveler understands the benefits of a sturdy carry-on backpack that can handle anything and is prepared for any location. Given the vast and daunting selection of carry-on travel backpacks available online, choosing the best one for you can be challenging.
To simplify the process, we combed through previous customer reviews of all types of carry-on travel backpacks and gathered feedback on their backpacks' functionality.
These experiences varied in terms of the kind of travel involved; whether it was a quick trip to Europe while on leave or a holiday excursion to visit grandma, the correct backpack may turn a stressful trip through the airport into a simple expedition anywhere in the globe.
You can trust our techniques and locate the ideal carry-on travel backpack for the subsequent travel you plan to undertake in light of all these first-hand accounts of various travelers.
To get the finest fit and comfort for you, we looked through various items created from different sorts of capacities and sizes. The ideal backpack is spacious enough to hold clothing and equipment for several days, comfortable, and organized with pockets, compartments, pouches, sleeves, and other features that keep everything organized for quick and straightforward access.
When selecting our favorites, we sought carry-on backpacks with additional support features like padded carry handles, waist and shoulder straps, and extra padding.
Your safety and making sure your money is spent wisely are our top priorities, so you'll find durability and strength to be essential components of our evaluation process across all of your options.
As always, we looked for the best deals to find you the most affordable carry-on backpacks while still maintaining quality and comfort!
Our Picks For You
Best Pick

–

The North Face Surge Backpack
Best Pick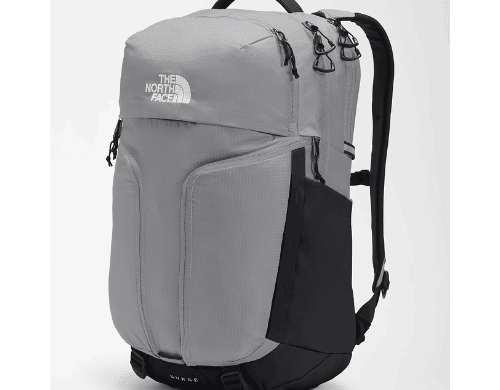 Provides a ton of organization with its three sizable, readily accessible zippered front pockets.
Despite being created with minimalism, this 31-liter backpack is the epitome of quality.

Buy Now
Who It's For:
This 31-liter Surge backpack is ideal for experienced hikers and campers, given its unique features that are rich in functionality.
It also has brand-new technology developed to assist you in storing your electronics and generally simplify and streamline your traveling life.
Why It's Great:
A compartment has been designed specifically for your flat items, such as computers, tablets, documents, etc. As a result, it also contains several fleece-lined pockets that are ideal for your sunglasses, phones, and laptop.
Then there is the lumbar panel, which works well with an injection-molded shoulder strap and provides all-day relaxation.
Potential Flaws:
The water bottle pockets are one of this backpack's possible drawbacks. Compared to the earlier version, it is less in-depth. Additionally, if it is not a tight fit, your water bottle may slide out when you place it on the table in landscape mode.
Despite this, customers have commended The North Face Surge as a highly roomy backpack appropriate for travel, day trips, and outdoor adventures. Whether commuting to work, flying, or wandering the great outdoors, The North Face Surge is a comfortable friend.
Other Features
The North Face Surge is a touch costly, to be honest. The price is a bit of an investment for those on a tight budget. However, given how useful, incredibly versatile, and durable it is, we believe the cost is reasonable.
Users love the Surge for its various desirable attributes, strength, and capacity. The removable waist belt and sternum strap help balance your weight and ensure that your body won't be negatively affected by the pack's enormous 31L capacity.
Not to mention, the FlexVent suspension system for ultimate comfort is a component of the Surge pack. The shoulder straps have thick padding made of specially injected foam to keep you comfortable throughout extended wear.
The back panel is also thickly cushioned and breathable, which is ideal for keeping you cool on hot days. The American Chiropractic Association has certified that the Surge, like all North Face backpacks, has been designed to carry big loads while offering the user ergonomic support.
Product Specifications:
Style: NF0A52SG
Size: One size
Average weight: 2 lbs 12 oz (1260 g)
Dimensions: 12" x 7" x 20" (30.5 cm x 17.8 cm x 50.8 cm)
Volume: 1892 in³ (31 liters)
Laptop sleeve: 15" x 11.5" (38.1 cm x 29.2 cm)

Runner Up

–

The Settra Duffel Backpack
Runner Up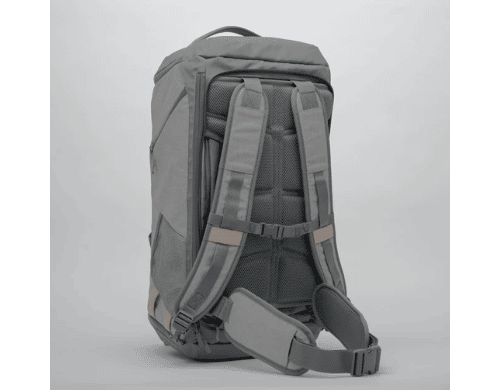 World's first 100% recycled bottle backpack.
Travel with ease thanks to 40 liters of packable space in a TSA-approved carry-on size.
Buy Now
Who It's For:
Should I buy a backpack? Should I get a duffel bag? What if the items I got do not fit in my carry-on? If this sounds like you, then the Settra Duffel Backpack is the solution. Monarc's solution is their Settra Duffel Backpack, a functional choice for people who need one backpack to do it all.
Why It's Great:
The Monarc Settra is a hip, fashionable, versatile, and remarkably distinctive hybrid backpack/duffel created entirely from recycled water bottles. This is the best eco-friendly travel gear.
The Settra has a generous 40-liter capacity and includes alternative inserts, including a padded cube for cameras and lenses, two excellent compression packs, and a tech pack for organizing your wires and other belongings. Oh, and there's a laundry bag for putting those dirty undies in.
Potential Flaws:
This pack is durable and well-designed. Before purchasing the Monarc Settra Duffel, there are a few minor details that you should be aware of. When empty, the backpack is a little heavy. It's hardly a brick, but it's probably heavier than a typical duffel. With the Monarc Settra, you may load 40 liters of personal belongings.
Most people can travel for up to a week with that amount. Thus, this pack is not appropriate for two-week vacations and is sadly insufficient for those multi-month, never-ending backpacking journeys that most backpackers love.
Other Features:
As we are all aware, at this point, the pack is created from recycled plastic bottles that have been cleverly transformed into polyester duffel material!
It is designed to keep water out, keeping your possessions secure and dry. Water rolls off the rubberized material that makes up the pack's ends.
Additionally, each zipper includes an outer rubber layer to keep water out. The bottom cushioning adds softness to protect your laptop when in duffel mode. Monarc's Settra Duffel also comes with a dust protection bag, a feature typically reserved for ultra-premium goods (which the backpack appears to be, although it isn't outrageously expensive).
Product Specifications:
Volume: 40L
Shoe compartment: 15" x 12" x 8"
Shoulder strap: 59" (Long), 30" (Short)
Backpack straps: 38" (Long), 20" (Short)
Laptop pocket: 20" x 11" x 1" (Holds up to 17" Laptop)
Weight: 4.5 lbs
Most Cost-Effective

–

Mother Lode Travel Backpack
Most Cost-Effective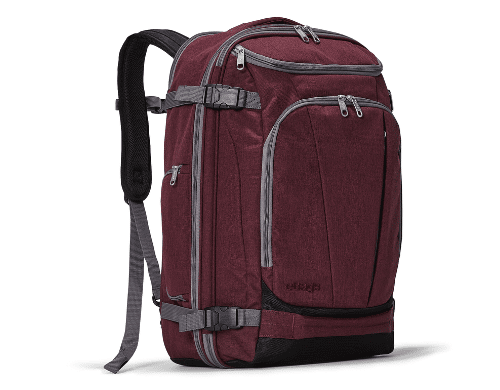 Fulfills all the functions that your wheeled carry-on should have.
Get this if you want an affordable, spacious backpack with a classic style.

Buy Now
Who It's For:
Travelers from overseas, road trippers, study abroad students, and backpackers might consider the eBags TLS Mother Lode Weekender. It is intended for all people. Additionally, its style distinguishes it from other travel backpacks.
Why It's Great:
Most backpacks load from the top and this can be annoying because it takes a lot of time to dig around in your possessions to find and remove items from the bottom of your pack. Travelers frequently must pull everything out of their packs to discover their sweater at the bottom.
This issue is completely avoided with the eBags TLS Mother Lode Weekender. Like a typical suitcase, this pack loads from the front rather than the top. This bag can be carried as a backpack or packed like a suitcase.
You can thus enjoy the advantages of both. You may avoid paying for extra luggage when you use this travel backpack. Even when fully loaded, the eBags TLS Mother Lode Weekender is small enough to fit as a carry-on bag.
Potential Flaws:
The hip belt is pretty thin and flimsy, which is one of this backpack's downsides. Given its size and capacity for expansion, this travel backpack can become very hefty. It would have been wonderful to have a padded hip belt to help redistribute the weight more comfortably.
Even the more casual style of the backpack might not be to everyone's taste. Besides those things, the eBags TLS Mother Lode Weekender is still praised for its adaptability and toughness. This travel pack will obediently keep all of your valuables secure wherever you go.
Other Features:
Get this backpack if you want an inexpensive one with a classic design that allows you to carry as much as possible—potentially more than airlines allow. There is no buckling or sticking of the zippers. The teeth are made of a strong plastic that has demonstrated its durability.
It won't move or crumble. The fabric has a smooth, thick texture that resembles canvas. It is strong, completely waterproof, and breathable. On the shoulders, the straps are soft and comfy.
This pack was carefully thought out by the design team for the traveler—lots of pockets and all easily accessible. The top zipped pocket is large enough to hold sunglasses, mints, keys, snacks, or other small items.
Product Specifications:
Dimensions: 22″ × 14″ × 10″
Weight: 3.94 lbs
Material: Polyester
Laptop size: 19"
Almost Made The Cut

–

Bellroy Transit Backpack Plus
Who It's For:
Bellroy's Transit Backpack Plus is designed for travelers who like to double-strap their bags. The Transit Backpack Plus by Bellroy appears to be all a travel backpack should be and more, with many practical features, an innovative, compact design, and ingenious separate access pockets.
Why It's Great:
Your belongings will remain secure and packed throughout your journey thanks to the front opening, internal compression, and optimization for maximum comfort and accessibility.
It can be the best travel backpack for people who like to keep things organized. It is tidy, roomy, and designed for securely transporting phones and laptops. Although the 28L capacity might not last you six months of Himalayan climbing (the 38L might!), this travel backpack is satisfactory, thanks to its padded straps.
It works best for short excursions to cities, foreign business trips, conferences, and long-term travels.
Potential Flaws:
A few improvements would boost the Bellroy Transit Backpack's functionality. Zippers that lock would be ideal. The pack may use a few zippered mesh pockets along the side wall inside. That would improve the organization of apparel (think belts, socks, toiletries) and other items.
The pack's zippers are also somewhat tight. This can occasionally result from water sealing, just like many bags. So, choosing whether you value buttery smooth zippers or water sealing would be a good point to consider before purchasing this pack. With time and constant use, these are also known to loosen up.
This backpack appears to be considered too pricey. These factors made us regrettably eliminate this backpack from our list of the top three carry-on travel backpacks.
Care and Maintenance
How to clean
This will vary depending on the material of your backpack. Use a damp cloth to spot-clean your pack's nylon and other water-resistant fabrics.
To effectively preserve the quality of your leather backpack, you should acquire a particular leather conditioner and cleaning. Your backpack's plastic or metal components can also be cleaned with a wet cloth.
Remove the hip belt and harness from the pack body if they are detachable from the pack. Brush out and remove any gear, food, dirt, or spilled things.
Is it washable?
Avoid using the washing machine to wash your pack. Clean your backpack and its parts in a bathtub or a big sink with warm water and mild soap.
With a soft brush, gently agitate the pack and clean all pockets and compartments inside and out. Clean the buckles and brush all zippers. Fill the sink or bathtub with cool, clean water after draining the soapy, unclean water out of them.
Give the pack a thorough rinse. Hang dry outside or in a well-ventilated place away from direct sunshine to avoid the fibers from hardening due to UV radiation.
How and where to store when not in use
Regular cleaning of the travel backpack is necessary for long-term storage. Typically, the dust on the pack's exterior layer is removed with a dry, soft brush.
The outside of the fabric is easily stained if you scrub it with a damp towel immediately.